Did you know you can copy and paste your Google Sheets or Excel data into Visor? In a few quick steps, you can bring your external data into the world's most connected spreadsheet—no integrations required. Watch the video below, followed by our step-by-step guide.
Step 1: Create a new workbook. Make sure that you create columns in Visor with headings that match your external data.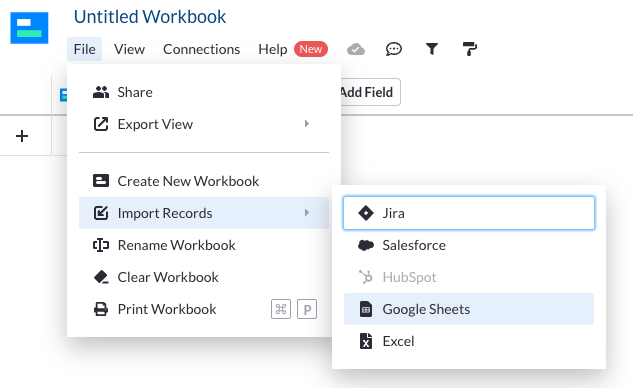 Step 2: Since the action is completed through copy and paste, clicking on either Google Sheets or Excel from the Import Records menu will prompt you with a reminder on how to format your data for the best translation.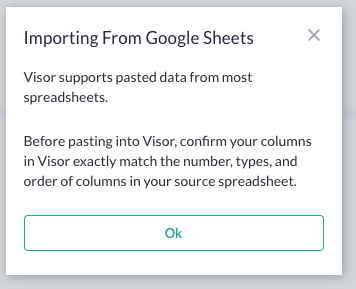 Step 3: Excluding the column headers, select the data you wish to paste into Visor from your external spreadsheet and copy it.
Step 4: In Visor, click the top left cell under the first column header and use your keyboard shortcut (Cmd+V or Ctrl+V on most computers) to paste the data into Visor.
Step 5: If you wish to copy from multiple spreadsheets, just paste the data from your subsequent spreadsheets in the cell of the first column below the existing data.
Voila! All the data you need in the place you want it most: Visor. Further questions or comments? Reach out to us at support@visor.us or click that chat button and tell us what you need. We're happy to help!