Did you know you can find your field API names and integration field compatibility information directly from your Visor profile? Yup! We recently released updates to Integration settings that will make finding the data you care about easier than ever.
Integration Management from Workspace Settings
If you're curious what record types you are able to work with in Visor, you can find out everything you need to know by navigating to Profile > Settings > Integrations.
Home tab
From there, select the integration you wish to search record types for. You will see a home screen that outlines integration status (active or inactive), the authorizing Visor user, and the date of the last field refresh.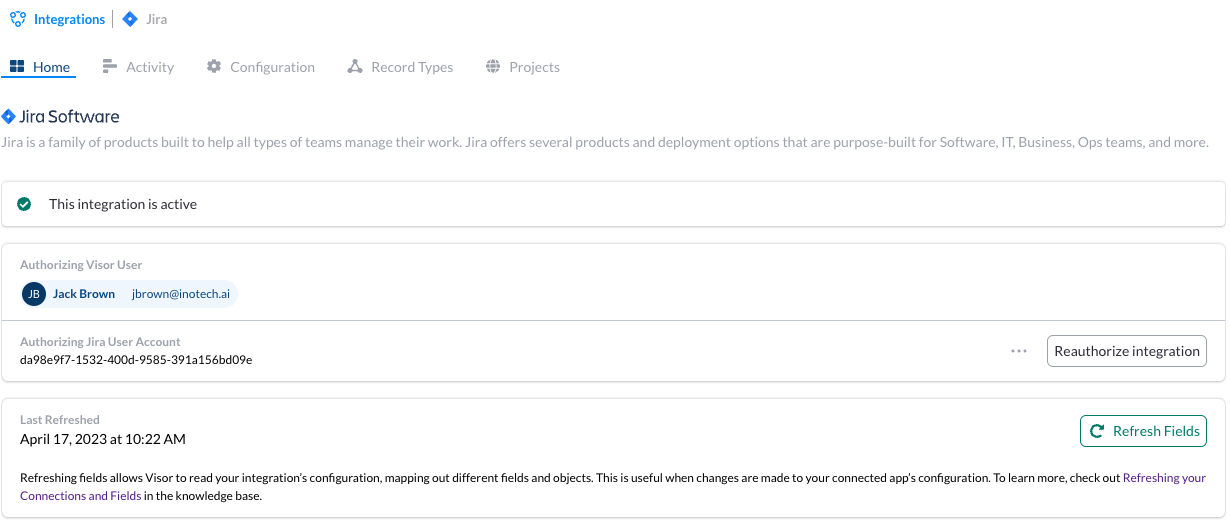 Switch your integration instance
You are also able to switch your integration instance from the Home tab using the "Reauthorize integration" button. Instructions on how to do this are outlined step-by-step by integration in our article Switching Your Active Integration Accounts.
Activity tab
The Activity tab shows you all actions taken by any user or system as it pertains to the integration. Here, you will see sync and import actions, background system refresh actions, the amount of time each action took, and the number of sync credits each action used.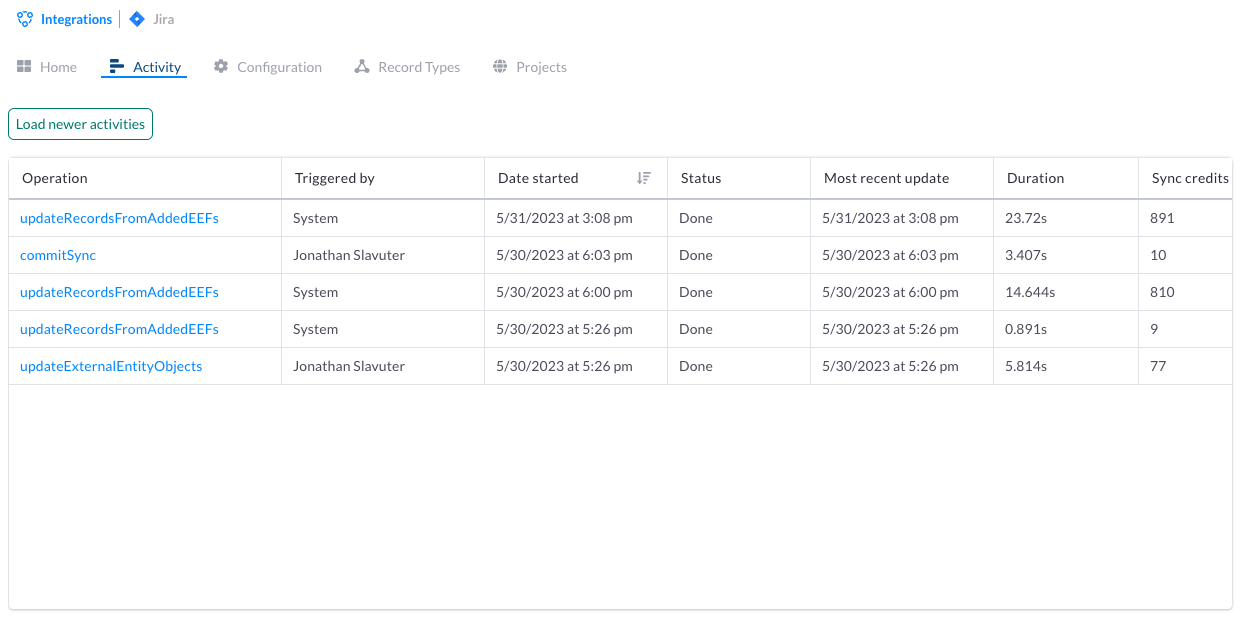 Configuration tab
The Configuration tab is where you can go to find more detailed, read-only information about the setup of your integration. Here, you can see the Instance URL, instance ID, and endpoints for any existing API calls.
Record Types tab
From the Record Types tab, you are able to see and search any and all connectable record types. You are also able to see which record types are mapped and, in specific instances like with Salesforce, select which record types or fields to map to Visor during the next field refresh.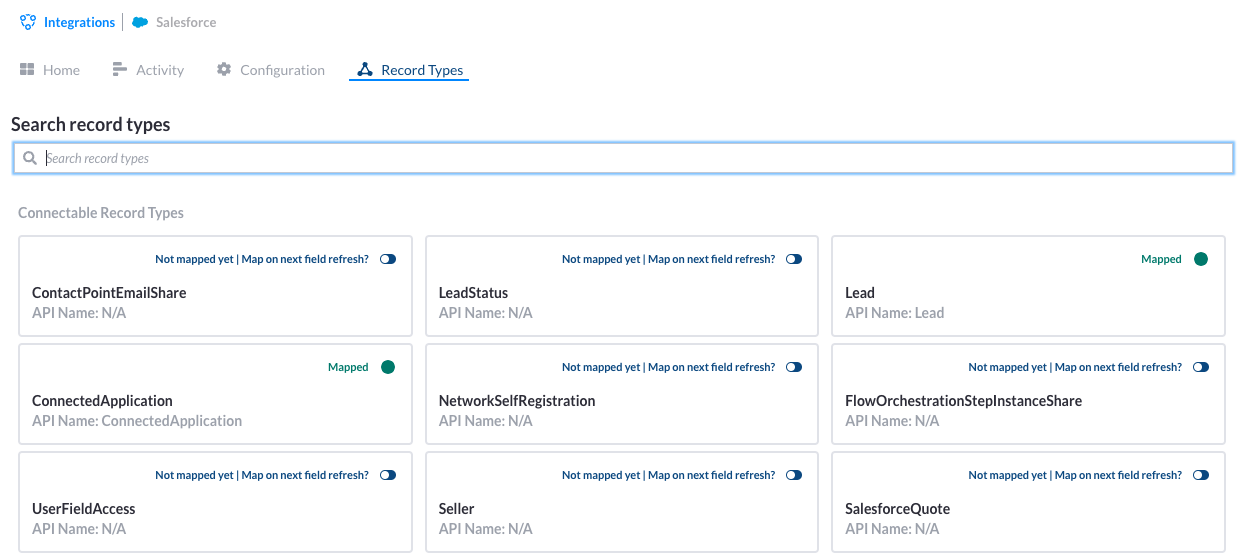 Find API names
Once you select a record type, you are able to see all compatible fields associated with that record type, as well as their API Name. This allows you to write queries easier and puts all your integration information in one place so there's less switching back and forth between Visor and our integration partners.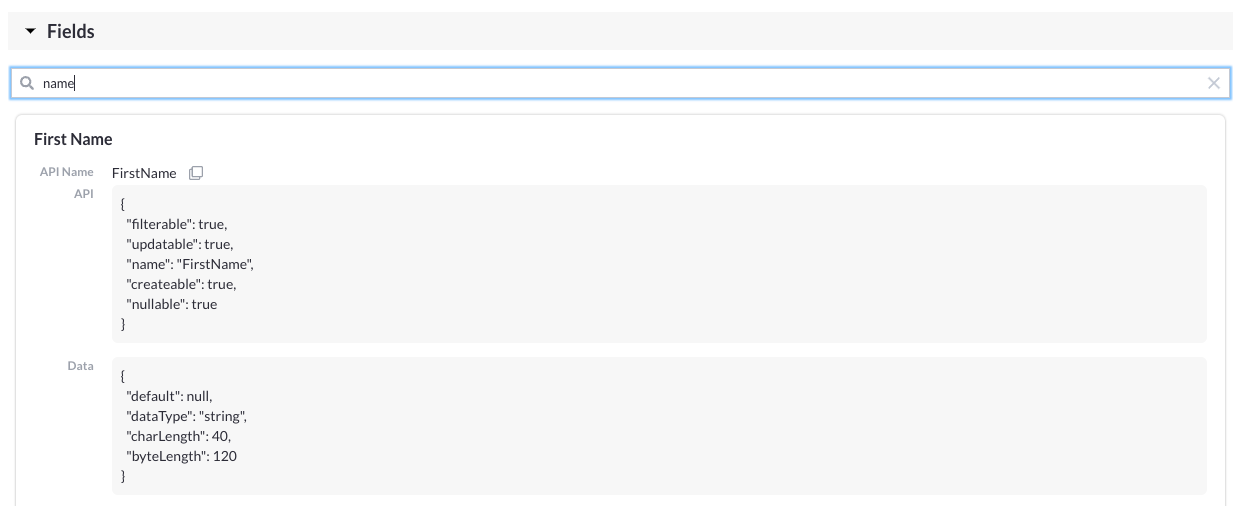 Projects tab (Jira only)
The Projects tab allows you to see each Jira project and its associated ID, Key, Name, and Issue types. This is a great place to look if you're getting ready to import a new project to your Visor workbook or rewrite your JQL query.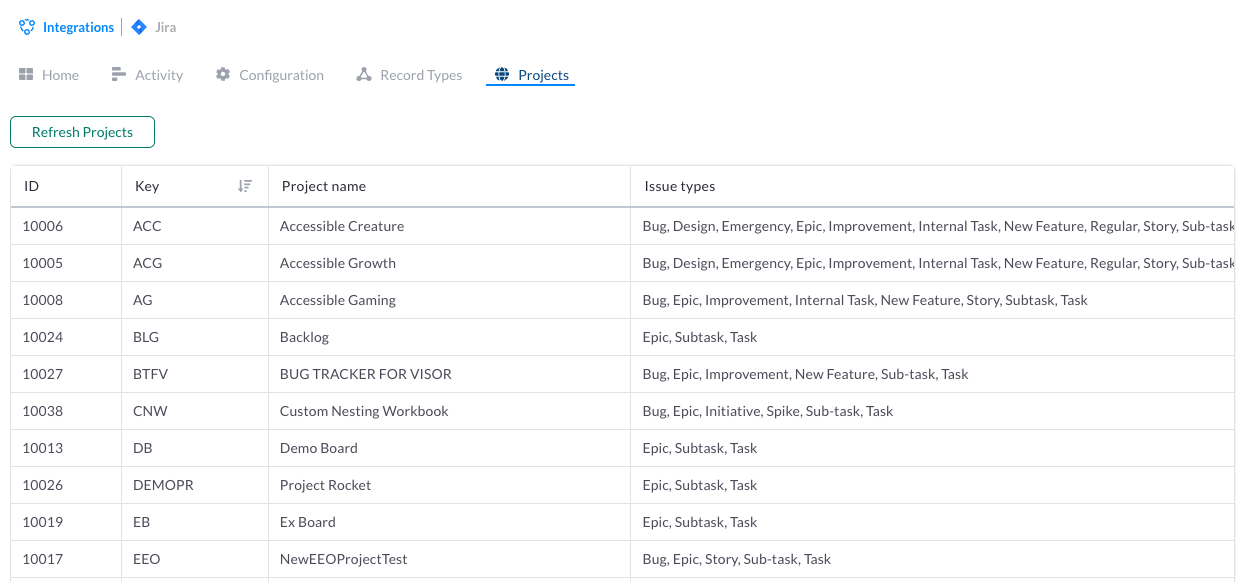 Questions? Comments? Concerns? Reach out to our Customer Success team! We're happy to help. support@visor.us