Visor's Workspace Homepage is your one-stop shop for navigating all your organization's workbooks. The main headline will tell you which workspace you are in. There are two ways to switch which workspace you are in:
By clicking your profile and choosing a new workspace from the list, or
By selecting from the dropdown next to your current Workspace name.

Filtering Workbooks
You are able to filter your workbooks by:
which user created the workbook,
the date the workbook was created, or
the permission level you have on a workbook.
To do this, select which criteria you'd like to search by and choose an option from the dropdown menu. You can filter by multiple criteria. To return to seeing all workbooks, click "Clear filters".

Workbook Customization
Add some flair to your workbooks by adding a custom icon or emoji. You are also able to edit your workbook name from the homepage and assign a description that helps distinguish what your workbook is about.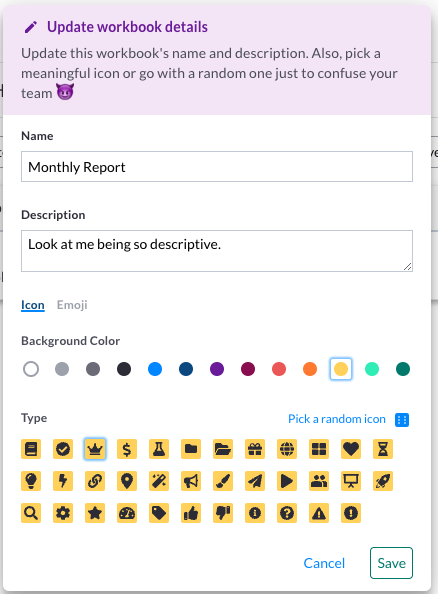 Other Features
From the Workspace Homepage, you are also able to delete your workbooks or search by workbook name.
To delete a workbook, click the trash can icon in the row of the workbook you'd like to delete.
To search for a workbook by name, use the search bar in the upper right-hand corner of the page underneath your subscription plan tile.
If you have any further feedback or questions, our Customer Success team is here to help! Reach out to us by emailing support@visor.us or clicking the chat button in the bottom right of your screen.